GiftedHire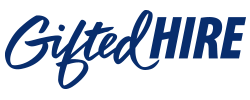 Sigma Tau Delta is excited to announce its new partnership with GiftedHire, a Society membership benefit that will grant our members exclusive access to a free, invite-only career launching program. 
GiftedHire has worked with over 17,000 high achievers on the path toward landing their dream job. 
"I found out about GiftedHire through my honor society, and never thought that this type of help ever existed. I am so grateful for the support GiftedHire gave me, and with their advice I did an excellent job at the career fair. I received many internship offers, even though I had just started college!" - Natalia Zofakis Rivera, University of Puerto Rico
Features include:
an exclusive profile that can be shown to any employer; and
a built-in contact management system and templates to help with reaching out to mentors and possible employers, which is the most effective way to find a job; and members-only career content from top experts, like former UCLA Career Director and current VP, Kathy L. Sims.
Sigma Tau Delta Members: Access Your Free Invitation to GiftedHire.