Alumni Representative (AR)
DeAndra Miller
Alumna of Florida International University
Miami, FL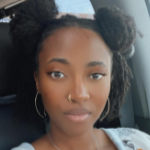 DeAndra Miller holds a BA in English Literature from Minot State University and an MFA in Fiction from Florida International University. As an undergraduate, she was passionate about the Society as President of her Sigma Tau Delta chapter and as the Student Advisor for the Society. She has won the Elizabeth Holtze Creative Nonfiction prize for the Sigma Tau Delta Rectangle twice and has presented poetry and nonfiction at previous conventions. Her work has appeared in Tenth Street Miscellany, So To Speak, and the Rectangle. She is a full-time Instructor of English at Florida Atlantic University teaching rhetoric, literature, and creative writing. She is also a copy editor for Archeion, Journal of Queer Archives, the literary magazine for the Stonewall National Museum & Archives. DeAndra's first novel, Hail Mary, is about to go out on submission. She lives in Florida with her five children, husband, and their goldendoodle named Luna.
Sigma Tau Delta Discord
In an effort to further extend the alumni community and to promote networking and conversation, DeAndra, along with the Central Office, has created a Sigma Tau Delta Discord. We encourage recent and upcoming graduates to join our server and begin building community for benefits such as job-searching, talent-swapping, community-building, and fun!
Join the Sigma Tau Delta Discord
Alumni Suggestion Box
In an effort to better serve alumni and take into consideration the needs of all alumni, we have implemented an Alumni Suggestion Box. This should be used to submit questions, comments, concerns, and suggestions for what you'd like to see happening with alumni within the Society. Please submit and the Alumni Representative will work with the Central Office and Board of Directors do what is within their power to address the suggestion.