2024 Common Reader
Then the War: And Selected Poems, 2007-2020, by Carl Phillips
The way an unexpectedly fine idea will sometimes emerge from

what looked on the outside like the mind as usual treading water . . .

"That the Gods Must Rest"
Winner of the 2023 Pulitzer Prize in Poetry, Then the War: And Selected Poems features new poems and an extended prose sequence, "Among the Trees," as well as a selection of poetry from a number of Phillips' earlier books. Both a retrospective and a prospect of his ongoing concerns, Then the War explores the resources of memory, desire, human fears and connections, natural elements as they reflect and resist human purposes, and the ways these and other preoccupations can be expressed in language, song, and silence. One critic aptly describes Phillips' work as "contemplative, rich, and troubled," and here we encounter a witty and incisive intelligence questioning the many ways of making meaning in a contrary and contradictory world, as "moment by moment, any life unfurls."
One of our most celebrated contemporary poets, Carl Phillips teaches at Washington University in St. Louis. His work has been awarded the Academy of American Poets Prize, the Kingsley Tufts Award, the Jackson Poetry Prize, the Pushcart Prize, and the Los Angeles Times Book Prize, and has twice been a finalist for the National Book Award. Other honors include fellowships from the Guggenheim Foundation, the Library of Congress, and the Academy of American Poets, an Award in Literature from the American Academy of Arts and Letters, and induction into the American Academy of Arts and Sciences. In addition to his 16 books of poetry, he has published two collections of critical essays and a translation of Sophocles's Philoctetes.
"A master class in [Phillips's] deceptively gentle voice and striking depictions of raw humanity. . . . Every selection provides a portal to this accomplished author's work. An important milestone in the still flourishing career of a most brilliant poet."—Booklist
"The poems that open Then the War are extraordinary ecological lyric verse, subtle and transformative."―The Guardian
"This selected offers admirers of Phillips's work a chance to revisit his masterful poems, and new readers an opportunity to see the evolution of a vital presence in American poetry. . . . These lyrically rich, insightful poems are full of palpable aching―'like the rhyme between lost / and most'―and a human urge to understand. This remarkable compendium is a testament to the spirit of Phillips's work."―Publishers Weekly
Regents' Common Reader Awards
Chapters can receive $100 for organizing and hosting a local event or activity around the 2024 Common Reader: Then the War: And Selected Poems, 2007-2020. Chapter members do not need to attend the convention to apply for a Regents' Common Reader Award. After the event, chapters simply apply for the award money, following the guidelines posted at english.org. Award applications should be emailed on or before February 15, 2024, to the appropriate Regent. View application guidelines.
Common Reader Convention Awards
Awards of up to $600 will be given at the annual convention for critical essays or other genres of work that deal with the common reader. To be eligible, students indicate on the convention submission form that their work is in the common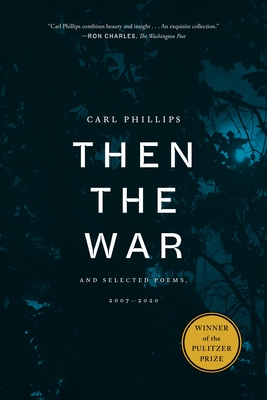 Get your copy now and start planning on how your chapter will engage with this powerful book.
Purchase Then the War: And Selected Poems, 2007-2020 (Farrar, Straus and Giroux, 2022) from Left Bank Books